_____________
.
_____________
Summer Adventure is our Vacation Bible School program for children in preschool-5th grade.
This week long program focuses on building a foundational understanding of biblical truths for these young children, and we do it through interactive learning and play! This is one of the absolute highlight experiences for kids in this community that takes place here in our church!
_____________
.
_____________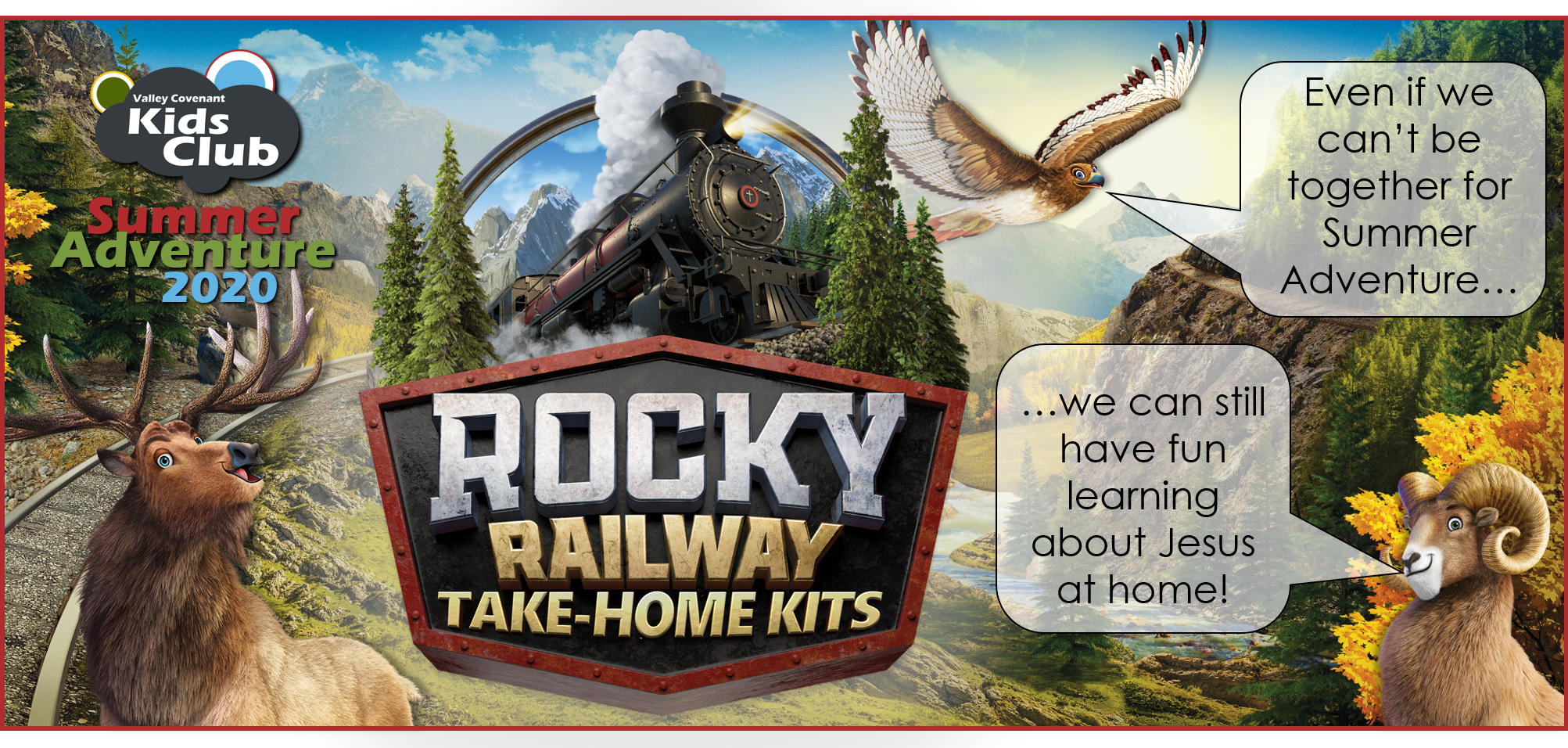 Summer Adventure 2020 is ONLINE!
Starting the week of June 15-19, kids and families
will be able to access our summer adventure
video's and resources from home!
We will be journeying on the Rocky Railway
and discovering that we can trust in
Jesus' promises and power!
To access these materials, you will need a
Summer Adventure Take-Home kit, which
were distributed on June 12.
There are a limited number of Take-Home
kits remaining. If you would like one for
FREE, please contact the church office!
ALL ABOARD THE KIDS CLUB EXPRESS!


Kids Club Summer Adventure is now available!
In your take-home kits, you have a bag marked for each of the 5 days of Summer Adventure. Use the access information and links listed below to begin watching the video playlist for the day.
Ready to watch the Summer Adventure
online videos?
Click the day you are ready to watch and use the password below it to access the video playlist.
SUMMER ADVENTURE 2020: ROCKY RAILWAY MUSIC PLAYLIST
We would LOVE your feedback!
What comes in each Take-Home kit?
Each kit will have enough materials for one child for their Summer Adventure experience from home.

The kit will be a medium size, canvas Tote bag with our "Kids Club" logo on it.

Inside, there will be 6 individual bags:
The largest, white bag will be introductory information, a few fun gifts, and activity materials that will be used throughout the week.

Each of the five other bags will coincide with a day of Summer Adventure and labeled as "Day One", etc. Each day is progressive, so you shouldn't open Day 4 until you are on Day 4 of the program.

Each of the five-day bags will include:

A Bible Memory Buddy tag that can be used with groups Rocky Railway app (found on IOS and Android devices)

A bible memory verse piece to be added to the week-long craft

A craft for the day

An imagination station gadget (video instructions will be online)

And a gift, just for fun!
When & Where do we pick-up our reserved kits?
Pick-up was on June 12, 2020. If you would like one of the remaining Take-Home kits, please contact the church office and stop by during our regular office hours.
Do the kits include anything edible or potentially hazardous to my kids?
There are NO treats or edible goodies in these kits. However, some of the materials have smaller pieces and are labeled for use for ages 3 and up only.
What if a piece of my kit is either missing or broken?
We will have replacement materials for most everything in the kits until we run out. Just let us know.
What if a friend, neighbor, or family member would also like to do this program but did not reserve a kit?
After the reserved kits, all remaining kits will be available first-come, first-serve. If you contact us, we will hold the kits for them until they can pick-up
Even though the kits are free, can I still make a donation?
We know that it feels strange sometimes to receive all these materials as a free gift, but we truly do hope you will accept this as a gift! All materials were paid for through other generous gifts and donations from church members and friends, so we are not financially "taking a hit" to provide these!

However, if you still would like to make a donation, you can donate by dropping off cash or checks (made out to "Valley Covenant Church" with Kids Club in the memo) at pick-up on Friday, OR anytime in the church office.

You can also click on the "Give" tag at the top of the valleycov.org website and donate with a one-time gift directed to "Kids Club" through our secure online giving platform.

All gifts that are received will be used to provide for our Summer Adventure programs in the future.